The Efficacy & Safety of Novuhair Locally Studied at St. Luke's Medical Center in Quezon City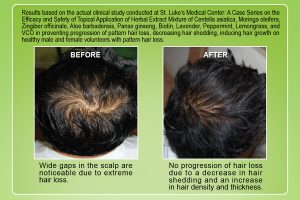 Abstract
Research Title: A Case Series on the Efficacy and Safety of Topical Application of Herbal Extract Mixture of Centella asiatica, Moringa oleifera, Zingiber officinale, Aloe barbadensis, Panax ginseng, Biotin, Rosemary, Lavender, Peppermint, Lemongrass, and VCO in preventing progression of pattern hair loss, decreasing hair shedding, inducing hair growth on healthy male and female volunteers with pattern hair loss
Investigator: Ma. Rica S. Mallari, MD, FPDS
Androgenetic alopecia (AGA), or male pattern hair loss, affects approximately 50% of the male population by the age of 50, and is due to progressive shortening of the anagen cycles. It is a medically benign medical issue but poses a significant psychosocial problem for patients. Medical treatments available (ex: minoxidil, finasteride) are mostly expensive and so there is a need for alternative treatment that is cheap and effective, hence, this study was done.
There are anecdotal reports that a combination of these extract mixtures (Moringa, Centella, Patchouli, Aloe vera) induce hair growth in a balding scalp.
This study aimed to determine the efficacy and safety of a herbal extract mixture of Centella asiatica, Moringa oleifera, Zingiber officinale, Aloe barbadensis, Panax ginseng, Biotin, Rosemary, Lavender, Peppermint, Lemongrass, and VCO in hair growth induction among males with androgenetic alopecia.
The physicians' assessment results showed no progression of the hair loss, positive results defined as increased number of hair growth noticeable mostly on the 4th month.
---
6 Responses to "The Efficacy & Safety of Novuhair Locally Studied at St. Luke's Medical Center in Quezon City"