Description
NOVUHAIR® Herbal Shampoo contains pure botanical extracts contributing to a healthy scalp and stronger hair follicles, thus, resulting in softer and healthier hair everyday.
NOVUHAIR® Herbal Shampoo is the ideal shampoo to use in combination with NOVUHAIR® Topical Scalp Lotion, Nature's Answer to Hair Loss.
Composition
Hair Growth Stimulators with Blood Circulation Enhancers: Moringa oleifera Leaf, Zingiber officinale (Ginger), Panax ginseng, Centella asiatica, Biotin, Aloe barbadensis Leaf, Cocos mamillaris (Virgin Coconut Oil), Phyllanthus emblica, Dexapanthenol, Mentha piperita L. (Peppermint Oil), Cymbopogon marginatus (Lemongrass Oil), Rosmarinus officinalis (Rosemary Oil), Cymbopogon martini (Lavender Oil).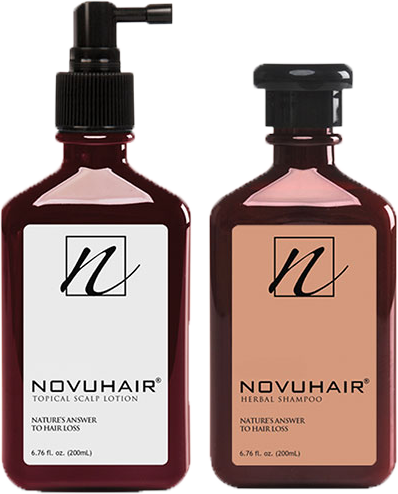 Indication
NOVUHAIR® Topical Scalp Lotion is recommended for men and women experiencing hair loss and wanting to stimulate hair growth and regain hair luster and vibrancy.
NOVUHAIR® Herbal Shampoo may also be used to regain hair luster and vibrancy.
Contradiction
NOVUHAIR® Topical Scalp Lotion is not indicated for use by children under 12 years old or breast-feeding and pregnant women. NOVUHAIR® Topical Scalp Lotion should not be used in cases with known sensitivity to any of the ingredients.
Warning
NOVUHAIR® Topical Scalp Lotion is only indicated for topical use and should not be taken internally.
Direction for use
Use twice-daily for optimal results. Apply NOVUHAIR® Herbal Shampoo to wet hair and scalp, massage, then rinse. After shampooing, towel dry and apply NOVUHAIR® Topical Scalp Lotion liberally to the entire scalp. Then massage for 5 to 10 minutes. Rinse off with water or leave it on and style as desired using non-alcohol based products.
Suggestion
To avoid staining pillow case or bed sheets, cover hair with a shower cap or a towel if you opt to leave it on for the night.
With consistent daily use of at least two times a day for 4-6 weeks, you can look forward to the benefits of: delay further hair thinning, stimulate hair growth and improve overall cosmetic properties of your hair.
For best results
Do not rinse. Extended contact with your scalp allows greater penetration into hair follicles.