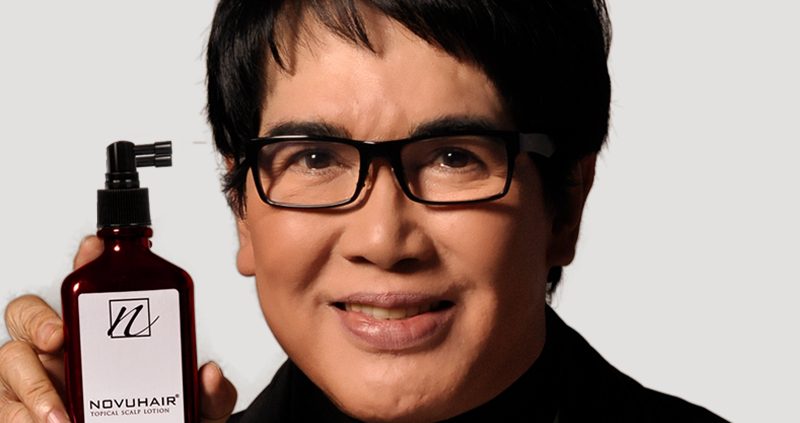 Get the answers straight from the NOVUHAIR® panel of experts for all your hair-related, and health and wellness questions.
Dear Tito Fanny,
I'm a PR and Events Manager based in Makati and my job always calls for me to be well-groomed and fashionably put together whenever I'm working. Lately though I am stressing out because of extreme hair fall and bald patches are starting to form on my scalp. I've tried several hair loss treatments but they don't seem to have any effect.
Styling my hair in such a way that it hides the bald spots is becoming more and more challenging every day. It's really frustrating and I'm getting self-conscious because I don't want other people to see the bald spots.
Do you have any hair styling tips that will disguise my thinning hair and conceal the shiny patches?
Distressed Chick
Dear Distressed Chick,
I totally understand your problem. I went through the same thing as well. There are many ways to hide bald spots and make thin hair appear thicker and fuller. Believe me I've done all of them and more. But these are all temporary solutions and what you need is a permanent one to lessen your hair fall and make your hair grow back.
I swear by the NOVUHAIR® Topical Scalp Lotion and I highly recommend you try it too. With regular use, you will see results in two (2) weeks. I can personally attest to this. Before I discovered NOVUHAIR® I was already resigned to wearing wigs but now you will see I have a full head of healthy and shiny hair.
NOVUHAIR® is made of all-natural ingredients like moringa oleifera (malunggay), panax ginseng, aloe vera, virgin coconut oil, among others, that stimulate hair growth, improve the flow of nutrients to the scalp, and nourish the hair follicles to make it stronger and lessen hair fall.
Try NOVUHAIR® and there'll be no need to hide bald spots.
Fanny Serrano is one of the country's pioneering make-up artists and hairstylists, a leading and respected beauty expert, a salon owner and fashion designer.
https://www.novuhair.com/wp-content/uploads/2016/03/ate-Fanny.jpg
800
800
Jessica Dela Cruz
http://www.novuhair.com/wp-content/uploads/2016/04/Novuhair-New-Logo-270-61.png
Jessica Dela Cruz
2016-05-23 14:31:50
2016-05-26 11:31:21
ASK THE EXPERTS: Fanny Serrano