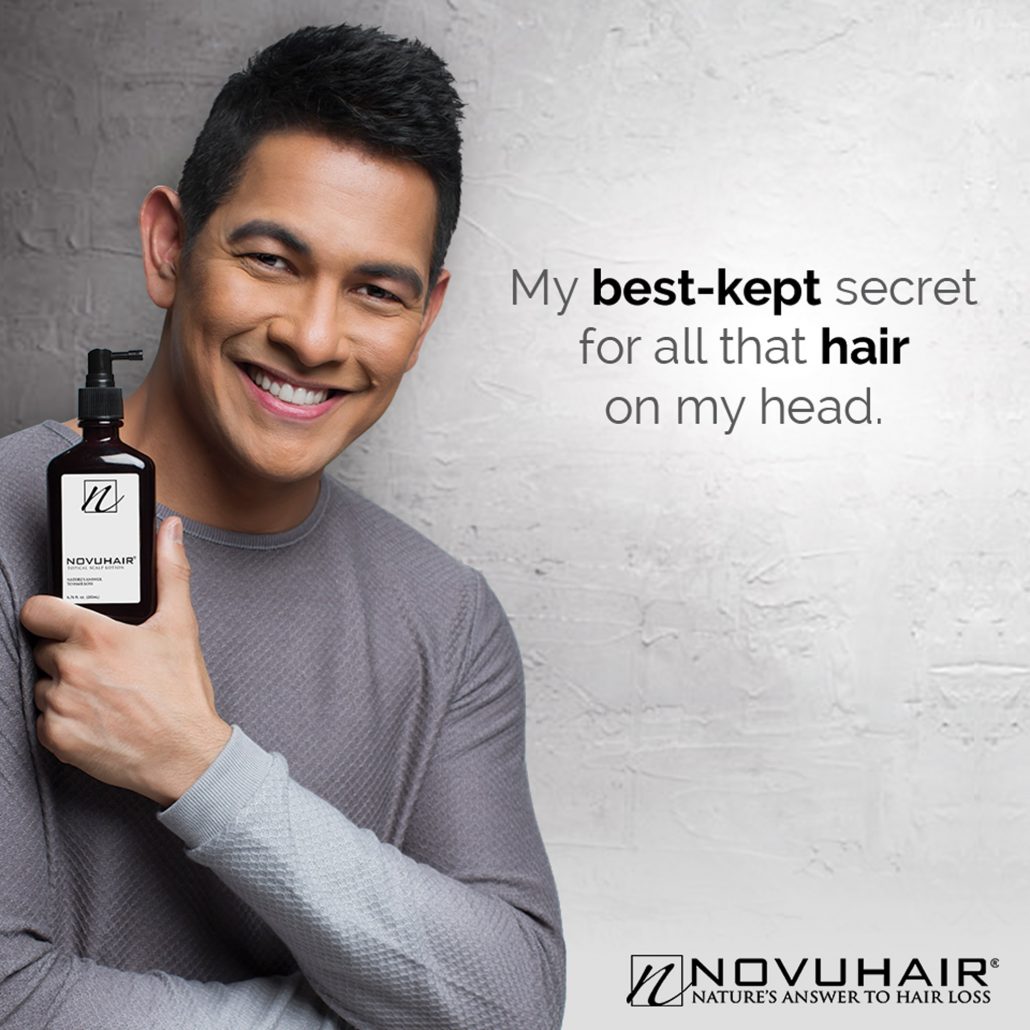 Energetic, youthful, charismatic and natural entertainer––put them all together and see a "Total Performer" in Gary Valenciano's persona. Yes, indeed, he is. Time flies too quickly yet his singing prowess and groovy dance moves still remain, not to mention his uber look.
Imagine the 80's music icon, who used to sport that big, curly hair, losing his crowning glory? That would be unfathomable, especially for his legion of fans. And so does he since it actually runs through their family.
Gary V, as he is shortly called for, recalls that his brother and grandfather both lost their hair. Though his late dad still had a full head of hair at 86, this could not spare him even if sometimes it skips a generation, as per studies. The stress that he experiences almost everyday with his line of work could also be factored in.
Wanting to control it himself, he immediately sought ways to prevent it from becoming worse. Good thing there's a breakthrough natural product already creating a buzz during the time that the initial signs of the problem had manifested.
"That's when they told me to look for the product that Fanny Serrano was using, a product called NOVUHAIR®," he says of his journey.
To begin with, NOVUHAIR® is nature's answer to hair loss. This topical scalp lotion is so unique being the only one that combines 19 natural herbs, essential oils and co-factor nutrients––all working synergistically to help remedy hair problems from growth to vanishing.
"I love using NOVUHAIR® because it has this minty, cool effect that makes me feel like my hair is always clean and fresh," Gary V relates his experience of using this product as part of his daily regimen

"In less than a month and half, I already saw results even if I was told to wait three to four months before I can see a difference. The effects on me were much faster," adds the balladeer.
Bringing back his healthy hair could be attributed to the fact that NOVUHAIR® penetrates deeply to help rejuvenate, nourish and maintain moisture in the scalp and hair. By enhancing blood circulation in the scalp, it aids in stimulating the growth of hair and helps prevent it from excessive falling, while improving the overall appearance.
Thankful for NOVUHAIR®, Gary V shares himself to others as a living proof of this product's efficacy and wonder. This, he does, so as to make a big difference to the lives of many as it is as much a problem for women as it is for men.
"I never endorse a product that I did not experience first. I have to make sure it is really effective. And with NOVUHAIR®, I can say that it has really contributed to my peace of mind. My routine now is made up of medication, diet, prayer and NOVUHAIR®," he emphasizes.
Head on to all leading stores and get a dose of NOVUHAIR®. It's available at Mercury Drug and other leading drugstores nationwide. For more information, like the brand's official Facebook Page, Novuhair Official, and follow on Twitter at @NovuhairNatural. You may also call NOVUHAIR® hotlines at 4136570 and 09228830575 and order online through lazada.com.ph and regaloservice.com.
https://www.novuhair.com/wp-content/uploads/2017/07/GV-Official-Photo-min.jpg
2048
2048
admin
https://www.novuhair.com/wp-content/uploads/2016/04/Novuhair-New-Logo-270-61.png
admin
2017-07-25 14:20:22
2017-07-25 14:34:56
Prevent mane problem ahead of time