Singer-songwriter, TV host, Novuhair brand ambassador, and the poster girl for alopecia in the country, Abby Asistio is singing a happy tune nowadays. And it's all because of those precious new strands of hair which are obviously growing on her previously bald head.
Abby proudly shows off her head with its short hair, like a child showing off a prized toy. "It has consistently been growing longer these past two years. My hair is significantly thicker now and I could already style it in different ways, even without having to wear wigs, turbans, and other hair accessories," she shares with an obvious gleam of joy in her eyes.
It seems like a miracle, those delicate black strands of hair growing from her scalp and for Abby, the sensations are almost all new to her. "I never thought I could have a full head of hair again. I could actually "take care of my hair" now and even go to the salon to get a trim," she says enthusiastically. "I love having hair again," she further states.
Abby's secret? Novuhair, nature's answer to hair loss, which she has been using for more than 2 years now. "I use the scalp lotion, shampoo, and conditioner religiously," Abby continues.
Having alopecia is a huge part of Abby's life journey and after successfully recovering from it since being diagnosed at the age of four, she has made it her mission to help others afflicted with the same condition. She started by putting up the first support group in the country – Alopecia Philippines, which aims to spread awareness about the condition and at the same time, inspire and motivate those with alopecia to become more secure and comfortable in their own skin.
"It's never easy," Abby says about living with alopecia. "But remember, you are not alone. People around you love and care for you, and accept and appreciate you for who you are. Look for someone to talk to, a shoulder to cry on, people to laugh about your journey and hair stories with," Abby further shares.
"Everything happens for a reason. In the end, we can choose to rise above the disease and come out better, stronger, more courageous, and more beautiful. Our hair may come and go but it is who we are, what is inside that truly matters and lasts," Abby says with a smile, the beautiful woman who has bravely battled alopecia and came out of it gloriously victorious with the aid of Novuhair. Abby thanks Novuhair, "I now have a full head of hair and feel more confident than ever before."
Novuhair Topical Scalp Lotion is available as an individual purchase; as part of a combo pack that includes Novuhair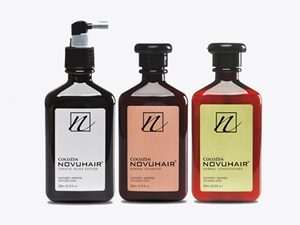 Herbal Shampoo and Topical Scalp Lotion; or a 3-in-1 pack with Novuhair Herbal Shampoo and Conditioner and Topical Scalp Lotion; and a 2-in-1 plus one with two Novuhair Shampoos plus Topical Scalp Lotion, all in 200 ml bottles. Available in all Mercury Drug outlets, Watsons branches, Lazada online, and other leading drug stores nationwide. For more information, call 413-6570 or 0922-8830575 and visit www.novuhair.com. Like us on Facebook: Novuhair Official and follow us on Twitter:@NovuhairNatural.