Want to achieve stylish and gorgeous hair without burning a hole in your pocket? Here are some hairstyling tips that's easy to do and even easier on the budget. Master these and you'll come out of your house looking salon-prepped every day.
1. Keep those unsightly baby hairs and cowlick in place by spraying a toothbrush with hair spray and combing down those stubborn hairs. You may also use the same toothbrush to tame fly away hairs.
2. Dry your hair with a cotton t-shirt instead of a towel after you shower then use the cool setting on your blow dryer. This will avoid frizz resulting from the friction caused by using a regular towel on your hair.
3. Create uniform waves by braiding your hair in sections then use a flat iron on them. Unravel the braids and you'll be rockin' wavy locks all around.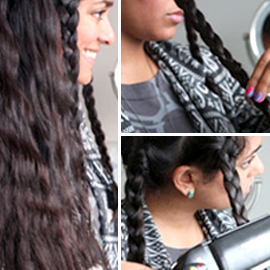 (Photo courtesy of https://s3-us-west-1.amazonaws.com/static.brit.co/wp-content/uploads/2013/06/8-FlatWaves.jpg)
4. Want some instant highlights? Get some hair chalk to add a splash of color to your hair.
5. Don't fret over a stray white hair here or there. For a quick and easy fix, just rummage through your makeup kit and find an eyeshadow that matches your hair color. Rub or brush over the problem strand and say goodbye to white hair temporarily.
6. Disguise a bad hair day with a cool turban. Plus, it makes you looking urban chic the whole day.

(Photo courtesy of https://s3-ec.buzzfed.com/static/2014-03/enhanced/webdr02/21/11/enhanced-5223-1395417482-20.jpg)
7. Fake a big blowout by curling your hair around big self-grip velcro rollers then use a stronghold spray to set it. This gives you an instant voluminous blowout.
8. Here's the secret to long-lasting waves – start curling your hair, with a curling iron, in the middle part moving down to the ends of the hair.
9. Invest in a good set of brushes. Using the right kind of brush helps achieve the corresponding look and hairstyle you want. Don't forget to clean brushes regularly by removing all the remaining hair and soaking them in warm water with a little amount of shampoo.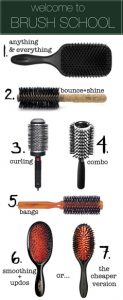 (Photo courtesy of https://s3-ec.buzzfed.com/static/2013-10/enhanced/webdr02/22/15/enhanced-buzz-22574-1382470907-28.jpg)
---
Sources:
•https://beautyhigh.com/weird-hair-tricks/
•https://www.brit.co/diy-hair/
•https://www.sheknows.com/beauty-and-style/articles/989295/7-diy-hair-tricks
•https://www.buzzfeed.com/peggy/lazy-girl-hairstyling-hacks#.in2OzAEnB
•https://www.buzzfeed.com/peggy/hairstyling-hacks-every-girl-should-know#.jvrp0Lg1e
•https://www.wsdaomany.com/style-beauty/beauty-tips-products/8-homemade-hair-treatments-110251