You are invited to join Novuhair's Amateur Video Spoof Contest and get the chance to win a Fanny Serrano Salon Relaxation Package worth PHP8,000 (good for three persons) each month and the Grand Prize of a 3-day, 2-night Stay at Puerto Prinsesa's Underground River in Palawan (good for two persons). This online contest period is from October 2012 to October 2013.
IT'S SO EASY & FUN!
Mechanics:
(1) Upload a video to YouTube between October 1, 2012 to October 31, 2013.
(2) Video must be inspired by Fanny Serrano's new Novuhair TV commercial ( https://youtu.be/5OB-TYVl8aE)
(3) Submit the YouTube video entry and link to sales@novuhair.com with your name, address, e-mail and landline/mobile number to be eligible.
Prizes:
There will only be one (1) winner monthly (October 2012 – October 2013). Each monthly winner is eligible to compete for the Grand Prize which will be determined and announced by Nutramedica, Inc. in October 2013.
Monthly Prize: One (1) monthly winner will receive a Fanny Serrano Salon Relaxation Package worth Php8,000 (Good for 3 persons) located at 34-A Scout Madrinan St., Brgy. South Triangle, Quezon City.
Grand Prize: 3 Days, 2 Nights Package trip to Puerto Prinsesa's Underground River in Palawan (Good for 2 persons)
Criteria:
Video entries will be judged based on the criteria below. Judges will give scores ranging from 0-10 (0=low and 10 = high).
A. Creativity (25%)
• Script – how closely the video covers the specified components of Novuhair's new TV commercial with Fanny Serrano
• Creativity – the overall originality of the video; use of original ideas, illustrations and style
• Coherence – does the video meet the objective of the contest; i.e. promote brand awareness in a fun way
B. Quality of Production (25%)
• Visual Aesthetics – the appearance of the video
• Cinematography – quality of the audio, lighting, camera steadiness
• Adherence to time limit
C. Technical Skill (25%)
• Camera operation
• Video editing
D. Final Product (25%)
• Cohesiveness
• Overall creativity
• Overall accuracy of information
• Overall video quality
Total = 100%
Eligibility:
(1) In order to submit entries, Contestant must be at least 18 years and older. A parent may submit video for contestants under 18.
(2) Only residents of the Philippines may be eligible.
(3) Contestants may submit up to 20 videos, minimum of 30 seconds and a maximum of 45 seconds, within the contest period and still be eligible to win.
(4) Videos that show direct competitor names or products will be disqualified.
(5) Contestants must submit the video entry link to sales@novuhair.com along with name, address, e-mail and landline/mobile number to be entered into the contest. The official moderator of Novuhair, sales@novuhair.com, shall send an email confirmation upon receipt of your entry.
(6) The person who uploads the video will get first consideration as an entry. If approved, Nutramedica, Inc. will consider entries from persons in the videos but only under permission of the submitter.
(7) Any individuals (including but not limited to employees, consultants, independent contractors, and interns) who have, within the past six months, performed services for Nutramedica, Inc. or any organizations responsible for sponsoring, fulfilling, administering, advertising or promoting the contest or supplying the prize, and/or their respective parent, subsidiary, affiliated and successor companies, and immediate family and household members of such individuals, are not eligible to join.
(8) "Immediate family members" shall mean parents, stepparents, children, stepchildren, siblings, stepsiblings, or spouses. "Household members" shall mean people who share the same residence at least three months in one calendar year.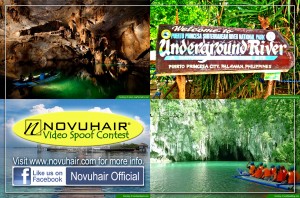 Terms & Conditions:
(1) Nutramedica, Inc. and YouTube reserve the right to reject or delete videos without explanation or notification to entrants. These same rights apply during and after the contest period.
(2) All video entries become the property of Nutramedica, Inc. and/or YouTube and will not be returned. Videos may be used by Nutramedica, Inc, for any purpose and in any media in perpetuity, even if they are not winners.
(3) No purchase necessary. Void where prohibited. Some restrictions apply. One (1) qualifier per month and one (1) Grand Prize winner. You need not be present to win.
(4) Nutramedica, Inc. reserves the right to cancel the contest for any reason at their discretion. Only qualified entries on or before October 25, 2013 will be eligible.
(5) In the event that the original Grand Prize winner does not meet Official Rules or eligibility requirements, or he/she or parent or legal guardian forfeits the Grand Prize, Nutramedica, Inc. will award prize to first alternate. Process will continue until Grand Prize is awarded.
(6) All monthly entries must be received on or before the end of each month. The monthly winners will be selected and announced on or before the 15th of the following month and the decision of the judges and Nutramedica, Inc. is final.
(7) The monthly winner will be notified by phone and e-mail and must meet all eligibility requirements.
(8) Each contestant agrees to be bound by the rules. Nutramedica, Inc., its promotional agents and YouTube are not responsible for illegible, lost, delayed or misdirected mail, errors in faxes or shipments, busy phone signals, or incomplete entries
(9) The Grand Prize is non-transferable. There may be no cash or other substitutions of prizes by winner. However, Nutramedica, Inc. reserves the right to substitute similar prizes of equal value in the event the above prize is unavailable for any reason. Individual, parent or legal guardian of winner is solely responsible for all applicable local taxes with respect to entire prize.
(10) Winner or Parent or legal guardian of Grand Prize winner must sign an Affidavit of Eligibility, Release and Indemnification Form ("the Form") that: a) releases, indemnifies and holds harmless Nutramedica, Inc. its parent, affiliated, subsidiary and successor companies, and its respective officers, directors, employees, agents, and representatives, advertising agencies and promotional sponsors (collectively the "Release") from and against any and all harm, expense, liability or injury that may be sustained relating to or arising from participation in the travel package or acceptance or use of the prize; and b) authorizes the Releasee to use the winners' names, likenesses, photographs, voices and biographical data for any purpose, in any media, unless prohibited by law.
(11) Prize will not be released until Nutramedica, Inc. receives all required documents. Failure of Grand Prize winner to return the Forms within the required timeframe will result in automatic forfeiture of any prizes and all such prizes shall be awarded to an alternate winner. In the event of a prize forfeiture, the winner or parent or legal guardian of the winner forfeiting prize will sign a Prize Forfeit Form and return to Nutramedica, Inc. within ten (10) days of receiving the Form.
(12) Unforeseen Events: Nutramedica, Inc. reserves the right to change or cancel this contest at its sole discretion at any time that Nutramedica, Inc. becomes aware of any circumstances or occurrences which would materially affect the security or fairness. Nutramedica, Inc. reserves the right to announce any rule changes over the air, in print or posters. Nutramedica, Inc. is not responsible for the inability of the winner to accept the prize for any reason.
(13) The monthly winners and the Grand Prize winner will be announced at Novuhair's Official website: www.novuhair.com and Novuhair's Facebook Fan Page: Novuhair Official. Only the official moderator of Novuhair, sales@novuhair.com, shall send an email confirmation to the monthly winners and Grand Prize winner.
(14) Only the Corporate Sales & Marketing Officers of Nutramedica, Inc. with official landline numbers: 413.6570 and 411.4448 or official mobile contact numbers 0922.878.0575 (SUN), 0917.549.0575 (GLOBE) and 0921.577.4858 (SMART) are authorized to contact the winners. Nutramedica, Inc. will not commission any third-party partner to contact the winners.