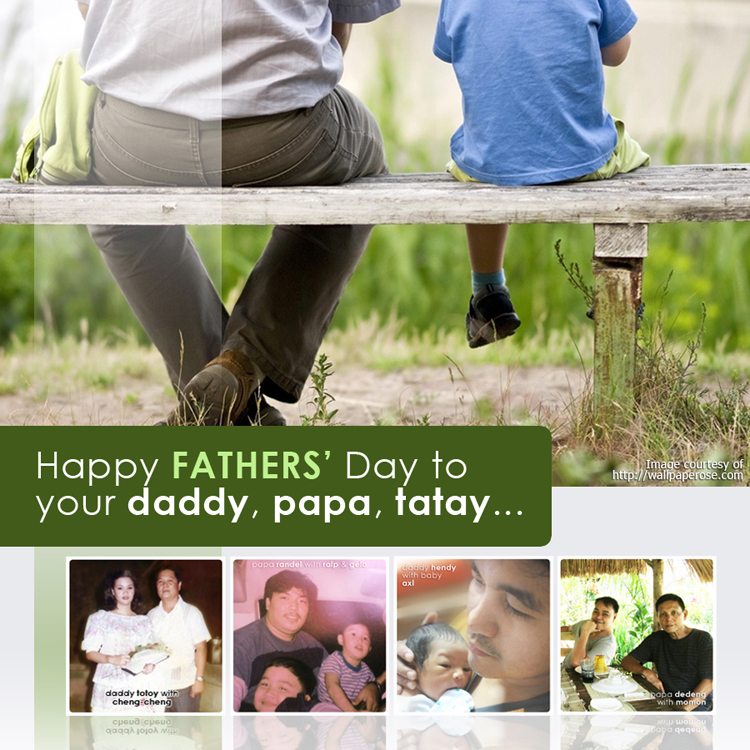 Daddy, papa, tatay… It's your turn to show how much you love him. Join our Father's Day Promo, win a special gift pack and make him feel very special!
It's so simple!
Step 1: Using your Facebook account, visit our page – Novuhair Official then LIKE the page.
Step 2: Upload any photo with your father (new or old). One entry per Facebook account is allowed.
Step 3: Say something about your photo and include the hashtag ( #novuhair ) at the end of your message then post.
Announcement of winners: June 9, 2014
A Simple Gift for Your Dad…
We shall notify the first 20 qualified entries through Facebook. Upon confirmation, please notify us where to deliver the gift pack.
Each qualified entry shall receive a SensifilTM Soap-Free Skin Cleanser gift pack (8 pieces 5mL./sachet) good for 2 weeks usage.
From the 20 qualified entries, the first 5 entries shall get additional 50mL. bottle of Novuhair Topical Scalp Lotion each.
Product information:
50 mL. bottle of NOVUHAIR® topical scalp lotion : NOVUHAIR® is a topical scalp lotion combining standardized herbal extracts with essential oils and co-factor nutrients, specifically chosen for their hair growing properties. NOVUHAIR®Topical Scalp Lotion penetrates the scalp to rejuvenate the hair follicles, provides optimum nutrition to help combat hair loss and thinning of hair and improves blood circulation in the scalp which contributes to the stimulation of hair growth.
NOVUHAIR® Topical Scalp Lotion helps arrest hair loss when used twice-a-day consistently.
Within 4-6 weeks, you can look forward to the benefits of NOVUHAIR® Topical Scalp Lotion in addressing excessive hair loss, retarding further hair thinning and improving the overall cosmetic properties of your hair.
For some, with continuous usage, it may also help increase the number of hair growth noticeable on the onset of the 4th month and onwards. This benefit is dependent on the amount of commitment and frequency of usage and how you embrace wellness as a lifestyle. The result may vary from one person to another.
Direction for use:
Option 1: Daily use. Spray liberal amount of Novuhair Topical Scalp Lotion on the scalp then massage for at least 5 to 10 minutes. Wash your hair using a herbal Shampoo then rinse. Towel dry and style as desired using non-alcohol-based hairstyling products.
Option 2: Leave on. Wash your hair using a herbal shampoo then rinse and towel dry. Spray liberal amount of Novuhair Topical Scalp lotion on the scalp. Massage for at least 5 to 10 minutes then leave on. Style as desired.
 
SensifilTM Soap-Free Skin Cleanser is a gentle, effective skin cleanser for sensitive, dry and normal skin. It moisturizes and conditions the skin while removing all traces of dirt, impurities and other unwanted residues without stripping the skin's essential moisture. With the addition of Virgin Coconut Oil, Aloe Vera and Vitamin E, you can enjoy a clean, soft, and smooth skin each use.
Contains Ammonium laureth sulfate – a milder surface acting agent than Sodium Lauryl Sulfate (SLS)
Ammonium laureth sulfate is a mild, primary anionic surfactant that is widely used as basic surfactant for shampoos and gels.
lanolin-free and fragrance-free thus preventing irritation to baby's sensitive skin and yours as well
pH-balanced – with pH range equal to that of the skin (pH 5.5-6.5) maintaining the skin's natural barrier against irritants
nourishing and moisturizing effects on the skin – contains Virgin Coconut Oil that provides natural anti-microbial, anti-fungal and anti-bacterial protection and Aloe Vera that has moisturizing and healing properties which makes SensifilTM ideal for baby's delicate skin
Direction for use: Apply SensifilTM Soap-Free Skin Cleanser on wet skin and manage gentle for thorough cleansing. Rinse of with water.
Ingredients: Purified water, Disodium laureth sulfosuccinate, Cetearyl alcohol, Glycerine, Peg7 glyceryl cocoate, Uniphen P-23, Vitamin E, Cocos mamillaris, Aloe barbadensis, Tetrasodium EDTA, Sodium saccharin
For more information, visit https://nutramedica.biz/beta/pharmaceuticals/sensifil-skin-soap-cleanser/