Everyday heroes across the world show resilience and courage in support of the foremost vulnerable amid the suffering, uncertainty and anxiety engendered by today's mega villain, the coronavirus. Similarly, within the case of our Filipino frontline workers, this global health pandemic failed to deter our real-life heroes from tirelessly doing their job so as to combat the threat and beat the invisible foe.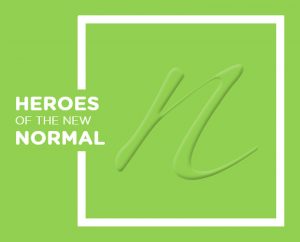 Dubbed by NOVUHAIR®, nature's answer to hair loss, as the "Heroes of the New Normal", we uphold and celebrate the most effective of human kindness and generosity and for putting aside their own safety and well-being just to guard and save Filipino lives.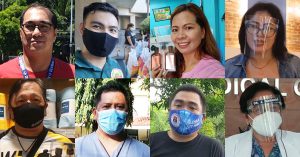 What a symbolical month to acknowledge these 8 "Heroes of the New Normal" while the whole archipelago, comprised of 7,641 islands (source: NAMRIA/DENR 2016), celebrates the 157th birth anniversary of Andres C. Bonifacio – the "Great Plebeian" and "Father of the Philippine Revolution" on November 30, 2020.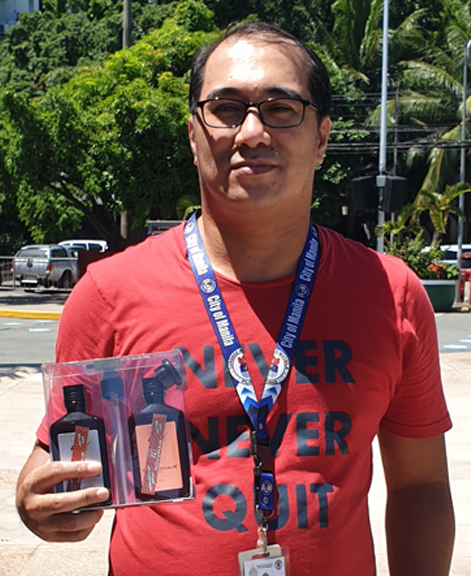 Mr. Raymund A. Reyes
Hero of the New Normal #1
Raymund currently works as an encoder of the City General Services Office (CGSO). The COVID-19 pandemic made it more challenging for him to maintain an effective archival system and records management in the city of Manila. Faced with the many challenges of the new normal, Raymund's passion kept him steadfast, reported daily to work and diligently performed his duties in spite of the hurdles to travel. He recounts walking for about 3 hours from Malabon to Binondo due to the quarantine travel ban. Fortunately, from that tiring experience, a kind soul lent him a bike. Now he pedals his 31-kilometer journey to work – an hour of travel time going to work and another to reach home. This extra sacrifice allowed Raymund to continue his job and provide for his family.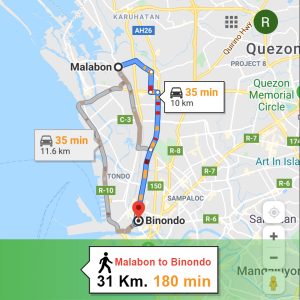 "Turn fear into faith. Ang takot palitan mo ng paniniwala at pananalig sa Diyos. Tuloy lang ng pagpidal sa buhay. Para sa kakapidal mo, makukuha mo rin pangarap mo at kung saan ka pupunta, mapupuntahan mo ng maayos. Basta tiwala lang at huwag kang susuko," Raymund added.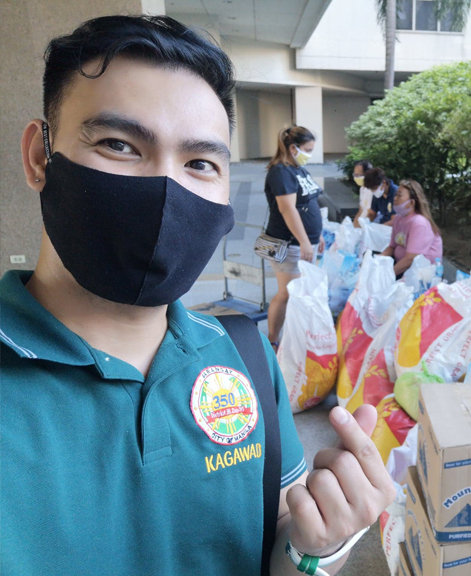 Mr. Lucky Magno
Hero of the New Normal #2
Serve with a conscience, inspire before you expire.
"I tell myself every day that life must go on and I do not have any person to rely on but myself. Yung pinagdaanan namin this past few months, nung start ng pandemic, hindi siya talaga biro dahil kailangan mo talaga ng puso at malasakit sa pagseserbisyo sa mga tao," Lucky Magno recalled.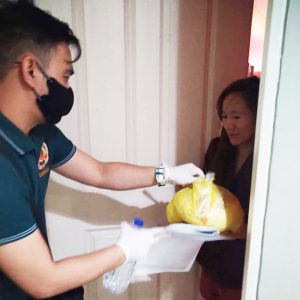 Uncertain of the perils yet fully aware of the urgency to respond quickly, Lucky chose to serve the increasing needs of his community.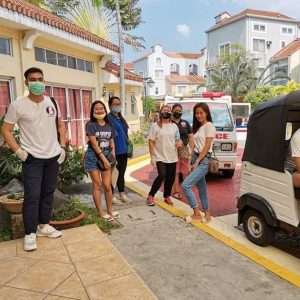 Accountable to 4,000 constituents (about 1,600 households) of Barangay 350 in the city of Manila, Lucky and his team went the extra mile to knock at every door that they can reach for support, extended extra patience and provided the utmost understanding to manage the situation.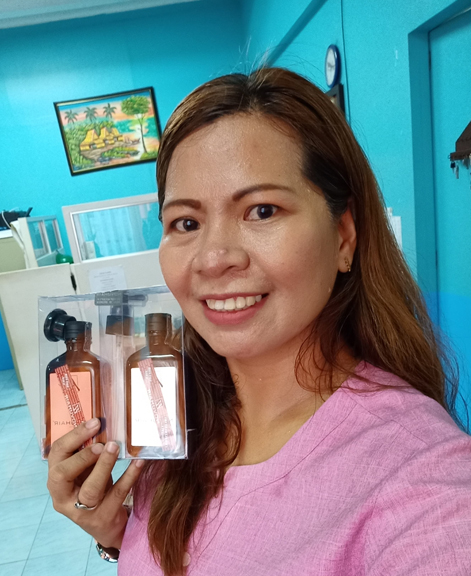 Ms. Vida Gertrudes Aquitania-Briones
Hero of the New Normal #3
A dedicated teacher at Pasong Tamo Elementary School, responsible single-parent to 4 wonderful children and a PhD candidate, our hero Vida Gertrudes Aquitania-Briones shares her passion and inspiring story.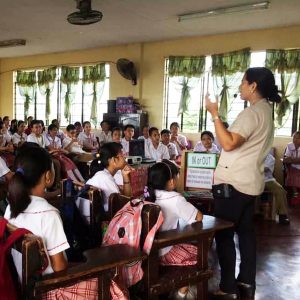 According to Vida, "Last school year was the biggest challenge to teachers like me due to COVID-19 pandemic. Fourth quarter, our school year was put on hold due to the upsurge in COVID-19 cases. We opted to communicate with our students the Facebook Messenger and gave them tasks and homework to augment the remaining days of the previous school year. We ended in compliance with DEPED policies and direction. We prepared for this school year by forming virtual e-service training and attended a month-long webinar. This is to adapt our teaching methods to the technology of the new normal for Brigada Eskwela – Oplan Balik Eskwela."
"No matter how hard life is pressing us, we must remember that God is bigger than our problems and adversities. That in everything, we need to be grateful because we are still alive and we are not infected by COVID-19. The struggle you are in today is developing in you the strength that you'll be needing tomorrow. Just keep on going," she emphasized.


Ms. Marichiel Mav Vicera
Hero of the New Normal #4
Kindness can make you shine. Be inspired by our hero Marichiel Mav Vicera, owner of a non-invasive aesthetic care clinic, who provides new homes to pets which have strayed from or are abandoned by their owners during the pandemic.
"There's one time I've decided to rescue a stray dog in Pasig. At first, I was kind of skeptic do it since it's far from my place in Quezon City. But since there was really a need to helping the poor dog, I was moved to do it anyway," she recalled.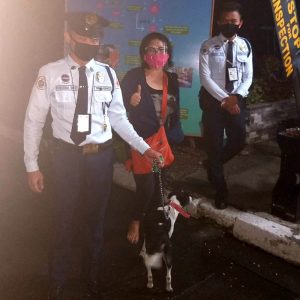 "I've realized that there's really a need to help animals because they can't even say nor express how they feel. I can be their voice," Marichiel enthused.
"Whenever I try to communicate with stray dogs, I think they understand me. Once I've gained their trust, they allow me to pet them temporarily. And as soon as possible, I send them back to the owner by posting an announcement on social media. There are many people who want to foster dogs. I'm happy that there are people who trust me and allow me to adopt their dogs – breeds like Chow Chow, Husky, Beagle, etc. In such cases, the pet owners provide me the opportunity to give their pets a new home or a new family," she added.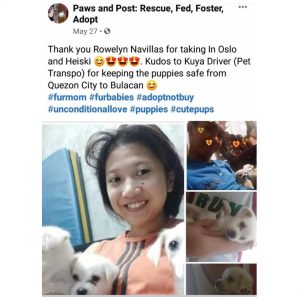 "To those people who also plan to help stray animals these days, it may really be hard to put yourself out there and rescue them amid the pandemic. We need to do this right, equip ourselves with the knowledge and techniques, and most of all be mindful of the COVID-19 – wear a face mask, face shield and a pair of gloves to protect ourselves and our family," Marichiel emphasized.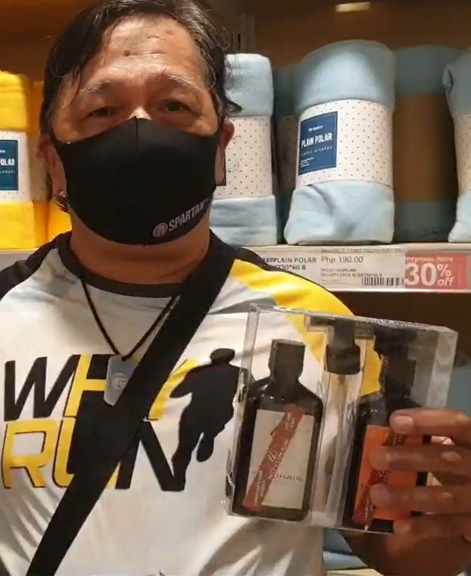 Mr. Emerito Mesa
Hero of the New Normal #5
Our hero is a sari-sari store entrepreneur and a participant of NOVUHAIR's 20-day Facebook Live Fitness program and holds the record with the highest number of shares on Facebook during the live sessions – Emerito Mesa.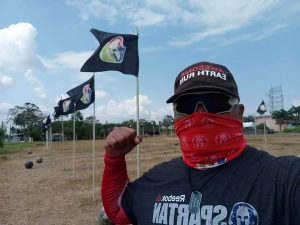 Emerito is a certified homebody yet mindful on how to strengthen his immune system. He exercises regularly at his humble abode, turning to social media as his source for a daily workout program. He sees to it that life goes on even just at the confines of his own home-business with constant daily fitness work out.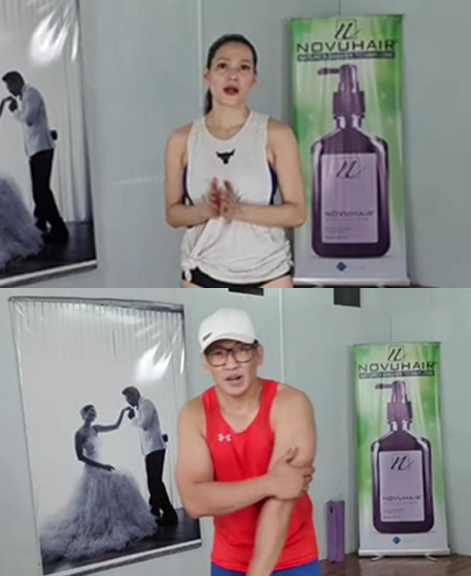 "With the current pandemic, there are things that I'm not used to do. That is why I urge my friends on social media to join the free workout sessions regularly since the activity will be helpful to our health," Emerito shared. "Whenever I workout, I close my store so that I'll be able to focus on the program as I follow the fitness coaches Jim & Toni Saret," he added.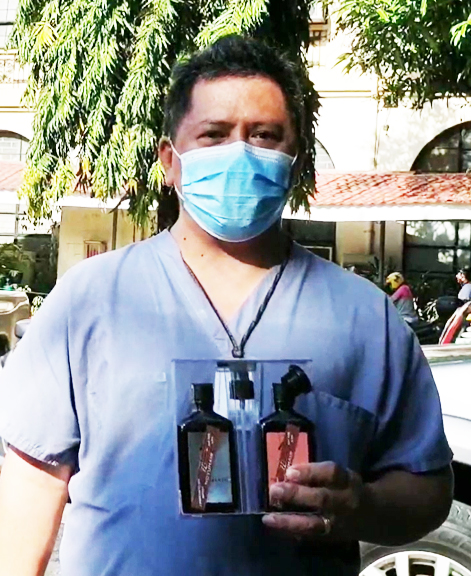 Mr. Quintin P. Bagay
Hero of the New Normal #6
According to Quintin P. Bagay, a professional registered nurse at the Philippine General Hospital (PGH), the situation in the ward is very challenging and COVID-19 has made it even more challenging.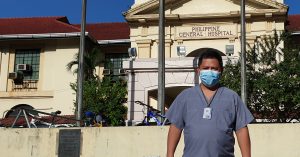 "We have experienced very limited movements due to the suspension of public utility vehicles during the early quarantine period. Frontliners were at lost on how to get back to work and at the same time reach home after work. We have to prepare ourselves psychologically and emotionally in wearing the PPEs. There were times we wore the PPEs for eight hours straight or more since the ward was really busy. We cannot just answer the call of nature, eat or drink because PPEs were limited during that time," he recalled.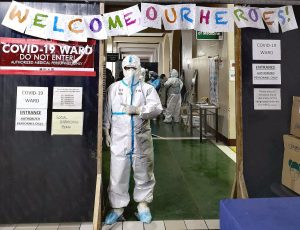 "During that time, I am forced to ask for a ride from mobilized colleagues. There was even an instance when I had to walk from PGH to Pasay. Fortunately, a good Samaritan offered me a ride from Pasay to Sucat exit. From there, I walked towards Manila Memorial Cemetery, hitched another ride from a fish dealer's tricycle to reach SM Sucat and a serious walkathon going home near the Las Pinas Bamboo Organ church. It was really tough. I got home yet anxious on how to get back to work the following day. I borrowed my nephew's motorcycle. I had no choice but to drive the motorcycle even without a driver's license. It's a call of duty and I have to comply. But now, I have luckily secured a driver's license," Quintin narrated.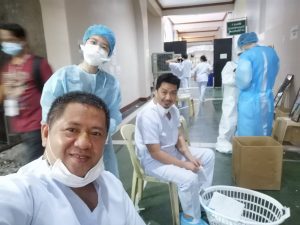 "In this profession, passion is the key to do the extra care and extra mile. We have to make it a point that we don't make matters worse for our patients. We have to project to them that we are indeed strong. We need to give the best care so they can feel better and recover fast," he enthused.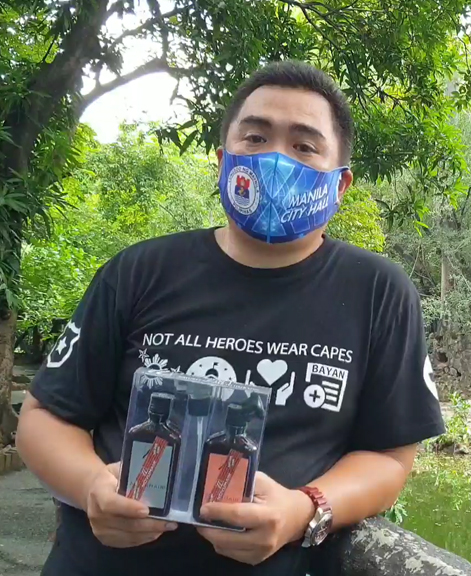 Mr. Rolando F. Marino
Hero of the New Normal #7
"It's difficult. For the things that we are fond of doing before, all of a sudden it was put on halt," Roland F. Marino, Parks Division Officer-In-Charge (OIC) of the Public Recreations Bureau shared.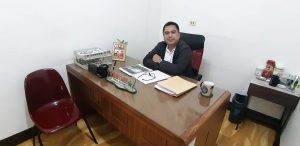 To address the current pandemic crisis, Rolando's team resorted to a skeletal work force. "I helped them out in urban vegetable gardening and other tasks. No more titles. Everyone was cooperative in accomplishing our common goals," he enthused.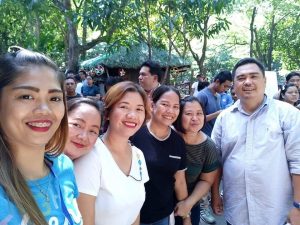 "All of us possess positive traits or skills that others don't. If you see a person emanating a characteristic better than yours, do not get intimidated or let go any feelings of insecurities. Don't think of that person as a threat to your position or stature. Handle the situation with a positive perspective. That person may be able to help solve the puzzle. In short, let's put envy aside. Be positive but not with Covid-19," Rolando added.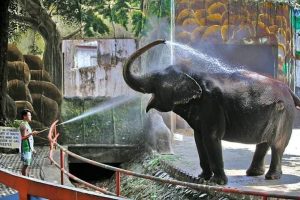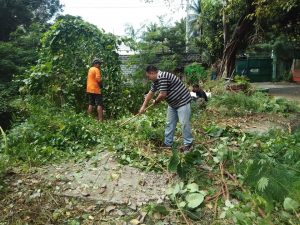 According to Rolando, we should never lose hope but muster strength. Despite the impact of the pandemic, he reminds us that life must go on and for those who are able to keep their jobs, be thankful. He also encourages those who have been laid off to use this experience as a stepping stone, a chance to explore one's core gifts and prosper.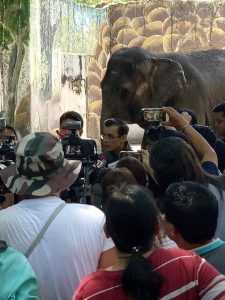 "Believe in yourself and don't forget to pray," he emphasized.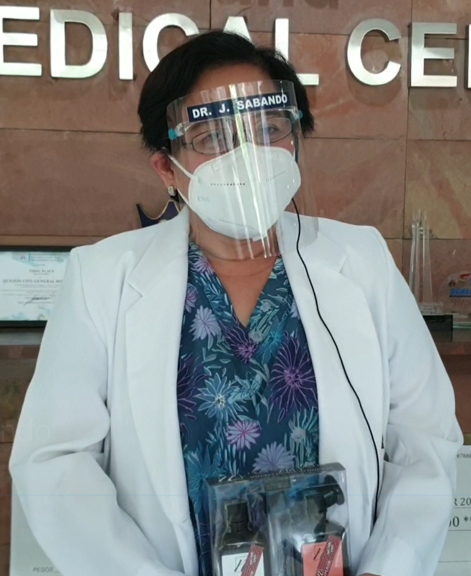 Dr. Josephine C. Sabando
Hero of the New Normal #8
The Quezon City General Hospital Medical Center (QCGHMC), a tertiary-level hospital with 250-bed capacity that provides modern yet affordable medical health care services to the city's constituents and serves as a medical training institution for future doctors headed by the Hospital Director, Dr. Josephine C. Sabando.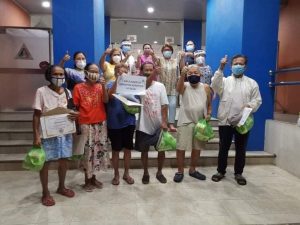 Dr. Sabando confidently shares one of the best practices that the hospital extends to our heroic healthcare workers infected by Covid-19. "We take care of our healthcare workers. They have a one-week duty followed by a 2-week quarantine. They are swabbed between the 5th to 7th day of quarantine and also undergo psychological debriefing to help them manage stress since they are assigned in the Covid-infected areas," she emphasized.
Thanks to the able leadership, effective management, conscious efforts and passion of Dr. Sabando in providing a haven for our new normal heroes where they can recover, recharge and get ready to combat once again with the invisible nemesis. "Kami pa rin po ang pinag-rereferan ng East Avenue, Medical City, as well as St. Luke's pagdating sa mga healthcare workers na nagiging Covid-positive. And then we cater to them and we give them rooms sa mga cord facilities natin, para sa mga healthcare workers," she enthused.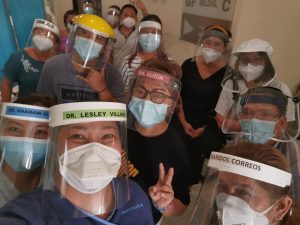 "To the healthcare workers, alam kong napakahirap na po ng nangyayari sa inyo ngayon. Please just don't put your card down. Matatapos din po ito, tulung-tulong lang," Dr. Sabando added.
May the stories of our "Heroes of the New Normal" inspire and more deeply re-impress upon us that no sacrifice is too dear that we cannot afford to make it for the sake of our loved ones. Andres Bonifacio's ultimate sacrifice made a lasting one. May we all find new courage in the life of the Great Plebeian.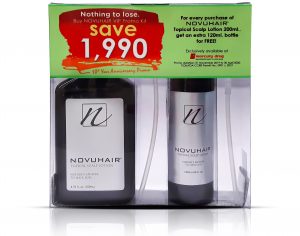 NOVUHAIR®, a natural hair loss treatment provides the utmost importance essential to your hair and scalp health – the VIP treatment that it truly deserves.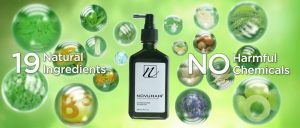 Formulated with 19 natural ingredients that work in synergy for hair loss prevention, NOVUHAIR® helps provide the hair loss solution without the unwanted side effects and complement your best hair growth goals.

NOVUHAIR® VIP Promo Kit is exclusively available at all Mercury Drug stores nationwide. For every purchase of NOVUHAIR® Topical Scalp Lotion 200mL, get an extra 120mL bottle for FREE!
You deserve more…
Go for the PERFECT 10!