Dragon boating was first introduced in Boracay 2001. Since then, annual competitions had been held in its pristine blue waters. In 2004, the Boracay Island Paddlers Association (BIPA) was incorporated with the main task of promoting Boracay as a sports destination with dragon boat racing as its main sport.
The 1st Boracay International Dragon Boat Festival was launched in 2007 and since then the races have become an annual event in Boracay. The success of every year's dragon boat races has made the event the biggest international annual sporting event in the Philippines bringing participants from around the world.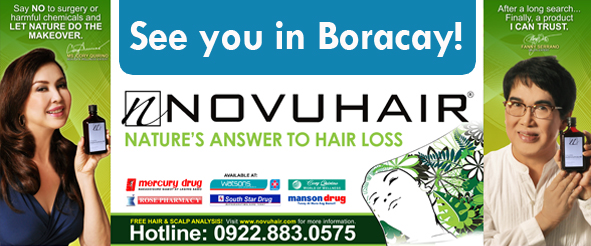 We are proud to announce that Novuhair – nature's answer to hair loss is supporting the 6th Boracay International Dragon Boat Festival on April 26 – 28, 2012. This year's event promises to be bigger and even better than the previous years – a fun-filled event incorporating the dragonboat spirit of sportsmanship and great international camaraderie. The Festival is supported by the Philippine Department of Tourism and the Municipality of Malay.
(Courtesy of https://www.boracaydragonboat.ph)
For inquiries on registration, contact:
Ms Tootsie Ronnholm
c/o Boracay Realty beside Boracay Beach Resort
White Beach, Station 1, Boracay Island
Malay, Aklan, Philippines
Fax: +63.36.288.5565
Mobile Phone Number: +63.915.308.7124
https://www.boracaydragonboat.ph