Since she was four years old, singer, songwriter and TV host Abby Asistio has been suffering from alopecia areata, an auto-immune skin disease resulting in partial or complete loss of hair on the scalp and the rest of the body.
"I went through a lot of tough periods in my life. Growing up, I accepted the fact that I could never meet that standards set by the world when it comes to beauty. If I were to even fit in and be considered normal, I must resort to hiding under hats, bandanas and my ever reliable wigs," said Abby.
Abby lived through the entire process of experiencing hair fall: losing it little by little, and then deciding to shave it all completely. She even tried other hair loss remedies when she lived in the US for several years, including chemical-based products that have resulted in negative side effects.
She was just starting to finally embrace her "baldness", when upon prodding from family and friends, Abby decided to give Novuhair a try. She experienced remarkable results in just a few months of regular use.
"It was the first time since I was diagnosed with the disease that I actually saw hair growing on my scalp. I never stopped using Novuhair since," remarked Abby.
Novuhair is made of herbal ingredients that rejuvenate and nourish the hair and scalp. It increases nutrient flow and maintains its moisture, as well as helps improve blood circulation. This stimulates hair growth and aids in the prevention of excessive hair fall.
In addition to remedying hair loss, Novuhair also alleviates scalp itching and prevents hair-graying, ultimately improving the overall health and appearance of the scalp and hair.
Late last year, Abby became the newest brand ambassador of Novuhair alongside TV host Kim Atienza. Past endorsers include hairdresser Fanny Serrano, beauty queen Gwendolyn Ruais and athlete Andrew Wolff.
"We at Novuhair are very happy to welcome Abby to our growing family. We are very happy for her as she triumphs over alopecia areata. Her testimonial is more than enough proof of our product's efficacy," says Sheila Mae Velilla, President of Nutramedica Inc.
One of the country's top dermatologists have also affirmed the new growth of hair in Abby's scalp, citing this as largely a potential result of the product's effectiveness.
Speaking on behalf of other patients suffering from the disease, Abby is at the forefront of a national awareness campaign on alopecia areata. A couple of years ago, she started an Instagram campaign in which she invited friends and family to pose with a double "A" (inverted V) sign using their fingers. The response was overwhelming as it received more than a thousand photos to date.
Things are looking bright for Abby as she recently launched her album "Beautiful".
"I have found my purpose and hope I can continue to inspire others with my story and music. I realize now that more than a disease, I have been given a gift to impart my testimony. Indeed, one must never give up hope." said Abby.
 Spotlight on Alopecia Areata
More than just common hair loss

"A disease with unknown causes is very difficult to treat. This is the case with alopecia areata," said Dr. Rica Mallari of the Philippine Dermatological Society.
Alopecia areata is an autoimmune disorder where the immune cells of the body go against the hair follicles making the hair strands weak at the base and easy to pluck. It is characterized by bald patches on the scalp that may join together and eventually render an individual hairless. Alopecia areata and may also attack other hairy parts of the body such as the eyebrows and pubic area.
Alopecia has many types, among them are pattern hair loss or common baldness; telogen effluvium or temporary hair shedding; and alopecia areata which is considered the hardest to treat.
"The disease has a genetic predilection, meaning there are more chances of getting it if there is a family member affected. It is however, not infectious as no organisms are involved. Though inconclusive, extreme stress is said to trigger the condition in genetically susceptible individuals," added Mallari.
Alopecia areata is generally asymptomatic – the patient is often unaware of his bald patches because there are no symptoms of pain or itching. Although some complain of a tingling sensation before a patch appears.
Alopecia can affect both men and women at any age. Its onset cannot be prevented and there are no studies to prove that healthy lifestyle can help cure the disease.
"There are a number of treatments and products for different types of alopecia depending on the case. It is important that the affected individual seeks help from an expert, preferably from a dermatologist of the Philippine Dermatological Society so that the condition can be evaluated and proper advice can be given," said Mallari.
Among the products available in the market today is Novuhair. Dubbed as nature's answer to hair loss, Novuhair is made from all-natural ingredients, including moringa oleifera, panax ginseng, virgin coconut oil, as well as the essential oils of rosemary, peppermint and lavender. Collectively these ingredients help improve blood circulation and increase nutrient flow to the scalp.
Moringa oleifera or malunggay is one ingredient that helps restore the skin's condition and prevent falling hair. Sweet almond oil, another ingredient, is a moisture-rich oil that contains vitamins A, B1, B6 and E, as well as minerals such as magnesium and iron. Scientifically known as prunus amygdalus, sweet almond oil easily penetrates the hair shaft and follicles, relieving hair dryness and itching and providing nourishment to the hair to promote hair growth.
Lavender helps relieve itching, and like rosemary, another ingredient, it contains properties that help combat dandruff and disinfects the scalp. Lemongrass helps clean the scalp's pores, while peppermint is known to slow the growth of bacteria and fungi, aside from having a relaxing effect on the muscles.
Novuhair users already notice a decrease in hair loss after only just one week. Hair growth becomes evident with regular use of the product. Once desired results are achieved, Novuhair may still be used as hair and scalp maintenance.
In response to growing demand from its users both here and abroad, Novuhair is now available in a special 2-in-1 Plus One pack, a combo inclusive of Novuhair Shampoo, Topical Scalp Lotion, plus an additional bottle of Novuhair Shampoo.
Just recently, Novuhair introduced two of its latest endorsers – TV host Kim Atienza and singer-songwriter Abby Asistio.
Atienza, fondly referred to as 'Kuya Kim', is an advocate of true health and wellness. He believes in the use of all-natural ingredients and Novuhair is as natural as a hair remedy could get.
Meanwhile, Abby Asistio knows how it is like to live without hair. She has suffered from alopecia areata at a very young age, and until recently, has lived bald under wigs, hats and bandanas. Today, with the help of Novuhair, the entertainer is experiencing hair growth on her scalp for the first time in years.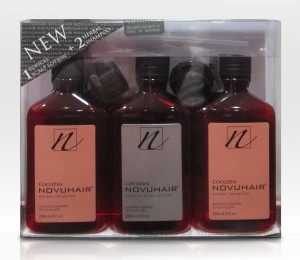 About Novuhair:
The natural ingredients in the formulation of Novuhair include moringa oleifera, panax ginseng, virgin coconut oil, and the essences of rosemary and lavender among others.
In response to growing demand from its users both here and abroad, Novuhair is now available in a special 2-in-1 Plus One pack, a combo inclusive of Novuhair Shampoo, Topical Scalp Lotion, plus an additional bottle of Novuhair Shampoo.
Novuhair Topical Scalp Lotion is available in all Mercury Drug Stores and other leading drug stores nationwide as an individual purchase, part of a combo pack that includes a bottle of Novuhair Herbal Shampoo, and a 3-in-1 pack that includes the herbal shampoo and herbal conditioner.
For more information visit www.novuhair.com, like the brand's official Facebook Page at Novuhair Official, and follow it on Twitter at @NovuhairUpdates. You may also call the Novuhair hotlines at 4136570 and 09228830575.