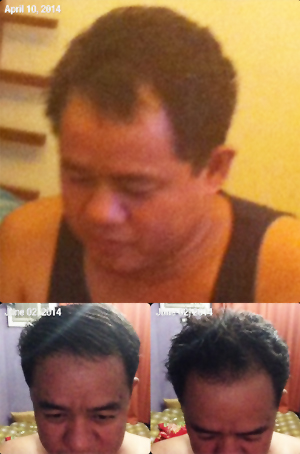 Actually, I have no complaints or whatsoever regarding your products. It is basically a testimonial on how these products helped me replenish my thinning hairline. I was so overwhelmed with the results as I've used these for 7 weeks now. As a proof, I have taken an image of my hair before and after using these products.
I'm a Chemical Engineer by profession working in Saudi Arabia for 9 years. The extreme weather condition in the Middle East is one key factor why most of the OFWs have declining hairlines and mostly suffering with alopecia.
Thank God I've discovered these products and now I am starting to regain back my lost hair, not instantly, but at least gradually.
Thank you very much and more power.
Respectfully yours,
Engineer Abet Pano