What makes hair naturally curly, straight, or even just wavy may be determined by genetics. In an article on the website www.popsci.com, it cites a study conducted in 2009 that ascribes between 85% to 95% percent of hair texture to DNA. The curly hair gene is an autosomal dominant trait so it almost always wins over the genes for straight hair. But sometimes, a combination of inherited curly-haired and straight-haired genes may result in wavy hair.
But there are other factors in play as well. One of the most widely accepted theories is the shape of the follicles as a determinant of hair texture.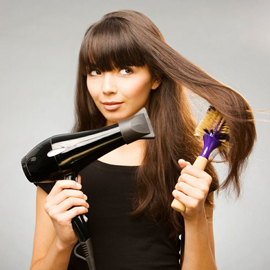 Follicles are minute, tube-like cavities in the skin where hair grows. Round hair follicles give way to hair that grows straight while flattened ones lead to thinner hair strands that are prone to curling. On the other hand, wavy hair are grown out of oval-shaped hair follicles.
Another reason why hair may be curly or straight is determined by arrangement or structure of proteins, called
keratin, that make up each hair strand. This protein molecule contains sulfur atoms that sometimes bond with each other. When this happens, it is called a disulfide bond. Simply put, the more disulfide bonds there are, the curlier the hair becomes.
---
Sources:
•https://humantouchofchemistry.com/why-is-your-hair-curly-or-straight.htm
•https://www.howitworksdaily.com/what-causes-people-to-have-straight-or-curly-hair/
•https://www.wisegeek.org/what-makes-curly-hair-curly.htm
•https://www.popsugar.com/beauty/What-Makes-Hair-Curly-Straight-2893006
•https://www.popsci.com/science/article/2012-11/fyi-what-maks-hair-curly