If there were an expert on beauty and hair care credible enough to champion beauty-related advocacies, it could be no other than Fanny Serrano – especially when it comes to hair loss. Like us ordinary folks, Fanny has also had his share of bad hair days, enough to know what it's like to dip in a bit of misery for a moment and feel desperate for a solution. With fate constantly on his side, though, Fanny has also managed to make it through the ordeal a stronger person – and, also, armed with something new to offer.
Fanny was at the peak of his career when he began to lose his hair. The truth would greet him in the morning, as a clump of hair on his pillow; in the shower, as blockage to the drain; and at his own salon, as undeniable evidence on the palm of his stylist's hand. Panic set in with the truth, and in no time Fanny was looking for a solution.
Herbal shampoos and scalp ointments, specially concocted solutions in pricy vials, products from the local market and far abroad – whatever was available, and promised to keep his hair from falling off his head, Fanny tried it, and to utter dismay. Not one solved the problem for him. Soon, he'd given up and looking, and instead focused his energy on having a wig fashioned for him. It didn't bring him any confidence, but it did hide the problem.
And then a day like any other arrives, though one with a special occurrence: Fanny stumbled upon Novuhair Topical Scalp Lotion. Believing he had nothing left to lose, he tried it, and two weeks into using Novuhair, Fanny was glad he did. Novuhair worked, and Fanny had found what he'd been looking for.
What is it about Novuhair Topical Scalp Lotion that makes it work?
Why, no other than nature's very own ingredients: a blend that includes moringa oleifera, panax ginseng, biotin, aloe barbadensis, and the essential oils of rosemary, lavender, peppermint, lemon grass, and virgin coconut.
With this all-natural blend, Novuhair Topical Scalp Lotion helps improve blood circulation to the scalp and increase nutrition to hair follicles, detoxifying the scalp, eliminating dandruff, and ultimately, stimulating hair growth and remedying excessive hair loss.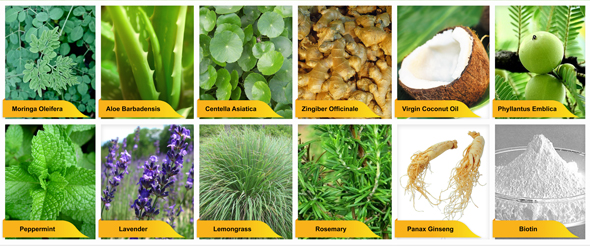 Novuhair Topical Scalp Lotion comes in a humble, 200mL bottle, from which all you need to do is apply it twice a day by massaging an ample amount onto your scalp after taking a bath or rinsing your hair.
Now armed with nature's very own answer to hair loss, Fanny takes to heart his role and responsibility in sharing the word. Many times in the past, he had been unable to answer clients' questions on what to do about hair loss – but that's no longer true for today. When it comes to advocating hair care to both men and women, especially those with difficulty holding on to their mane, Fanny refers them to only one product – that is, the one that works for him: Novuhair Topical Scalp Lotion.
Novuhair is available at all Mercury Drug, Watsons, Rose Pharmacy, South Star Drug, Manson Drug, NCCC (Davao and Palawan) and Cory Quirino World of Wellness Stores nationwide, and online on www.regaloservice.com. Call 413-6570 or 0922-883-0575 and visit www.novuhair.com for more details.