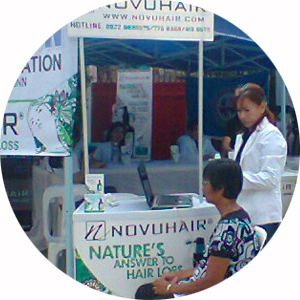 One of the value-added services that we provide in promoting hair and scalp health awareness, is through the free clinic activities that we conduct monthly on selected drugstores. These free clinics are intended to help you monitor the progress of your Novuhair treatment.
Our trained promodizers will assist you in getting a closer look at the present condition of your hair using our hair and scalp analyzer. They will show your scalp's captured digital images and the corresponding analysis. Your data will be recorded to our database for your future reference and monthly monitoring while using Novuhair.

Mercury Drug Corporation
October 02-03, 2012: ARTC Farmers Plaza branch, Quezon City
October 04, 2012: Antipolo Poblacion branch, Antipolo City
October 05-07, 2012: Cash & Carry branch, Makati City
October 08-09, 2012: Market! Market! Global branch, Taguig City
October 09-10, 2012: Aseana Business Park branch, Pasay City
October 10, 2012: Pasig Armal branch, Pasig City
October 13-14, 2012: St. Francis Square branch, Mandaluyong City
October 14, 2012: Marikina Dela Paz branch, Marikina City
October 18, 2012: San Joaquin branch, Pasig City
October 18, 2012: Cebu Fuente branch, Cebu City
October 18-19, 2012: Philamlife branch, Las Pinas City
October 19-21, 2012: Ayala Center, Cebu City
October 24-26, 2012: AYC Glorietta branch, Makati City
October 25-27, 2012: Robinsons Metro East Pasig branch, Pasig City
October 29-30, 2012: California Garden branch, Mandaluyong City
October 29-31, 2012: Trinoma Mall M1 branch, Quezon City
Watsons Pharmacies
October 11-14, 2012: Watsons Robinsons Galleria, Quezon City
October 18-21, 2012: Watsons SM Makati Mall 2
Rose Pharmacies, Inc.
October 02-03, 2012: Rose Pharmacy A.S. Fortuna branch, Cebu City
October 04-07, 2012: Rose Pharmacy Juan Luna Colon, Cebu City
October 09-10, 2012: Rose Pharmacy Juan Luna Colon, Cebu City
October 20-22, 2012: Rose Pharmacy Festival Mall, Muntinlupa City
October 24-30, 2012: Rose Pharmacy Festival Mall, Muntinlupa City
October 25-28, 2012: Rose Pharmacy Shopwise Labangon, Cebu City
October 30-31, 2012: Rose Pharmacy Shopwise Labangon, Cebu City
Metro Gaisano
October 05-07, 2012: Metro Gaisano Alabang, Muntinlupa City
October 05-07, 2012: Metro Gaisano Global, Taguig City
Call 413-6570 or 0922-883-0575 and visit www.novuhair.com for more details. Like us on Facebook: Novuhair Official