The sweltering temperatures of the Philippine summer season can really make one hot-headed – literally. With the degrees climbing from 32 to 37 centigrade any given summer day, there is just no getting away from the dryness and stress.
Add to that the slew of activities one can get involved in during the busy months filled with sunshine, and for sure, your hair will take in a steady amount of 'torture'. That is, if you don't take the necessary measures to take care of it.
Here are a few easy ways to make sure that your hair stays beautiful throughout the summer: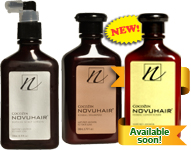 1. Keep your hair moisturized. One thing that summer does to your hair is to dry it out, not only through the temperature but also through swimming in pools or salt water. To keep hair smooth, healthy and well conditioned, best to use NOVUHAIR® 3-in-1 pack. Each set contains Novuhair Herbal Shampoo and conditioner, which keeps your hair hydrated through natural active ingredients and a topical scalp lotion to help increase the nutrition in your scalp.
2. Your lazy days at the beach must also include some sort of hair protection like a floppy hat, a visor, or simply wrap a scarf around it while you 'sunbathe'. This way, you can keep some of the harmful UV rays away from your gorgeous strands.
3. If you plan to spend a considerable amount of time in the pool or the beach, don't forget to bring with you some hair care elements like Novuhair Topical Scalp Lotion. It will help you ensure that your lovely locks are not deprived of important nutrients it needs that chlorinated water and salt water tends to strip away.
4. Go for more laid-back or natural hairstyles. As much as possible, keep styling elements like the curling iron and blow-dryer away from your hair. Use of these tools will only add up to the heat and 'stress' that your hair has to suffer during the summer months.
5. Keep your head and hair clean. Pollution in the city, and even in favorite summer destinations tend to escalate during the hot months of March to May, and all the dirt can build up in your hair. Chlorine and salt from your refreshing dips can also take up space on your scalp. So make sure to rinse your hair with fresh water after a swim, and after a day spent outdoors.