Fairy tales are a favorite read by children and even adults, it lets them into a magical world where even the impossible can happen. In the realm of hair loss and hair thinning though, there seems to be a perpetual dark cloud hanging. Like it is a hopeless 'end of the road' kind of condition where no fairy dust can help out.
Truth is, hair loss or alopecia is not a dead end. There is a certain kind of 'magic' that does exist to help alleviate the condition. And contrary to popular modern belief, the answer is not exactly in chemicals or technology – it is and has always been in nature.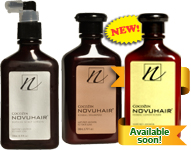 NOVUHAIR® 3-in-1, an innovative product from Nutramedica, has brought to the Philippines the 'fairy dust' of hair loss. Containing a formulation of natural active ingredients of herbal extracts, essential oils, and co-factor nutrients, Novuhair provides a safe and effective means to promoting hair growth.
NOVUHAIR® 3-in-1 pack contains one bottle each of Herbal Shampoo, Topical Scalp Lotion and Herbal Conditioner to provide the user the optimum benefits of NOVUHAIR® natural hair loss solution. When used in combination, one should experience an even better result than used individually.
NOVUHAIR® Topical Scalp Lotion, works wonders in ensuring that your hair gets a daily dose of enriching botanical extracts to make it healthier and stimulate hair growth such as Panax ginseng, Zingiber officinale (ginger or luya), and Aloe barbadensis (Sabila). These elements promote increased hair growth by nourishing and stimulating the hair follicles.
NOVUHAIR® Herbal Shampoo contains pure botanical extracts contributing to a healthy scalp and stronger hair follicles, thus, resulting in softer and healthier hair everyday. NOVUHAIR® Herbal Shampoo has been developed especially to prepare the scalp in an optimal way for the application of NOVUHAIR®  is a topical scalp lotion and is expected to enhance its effects.
NOVUHAIR® Herbal Conditioner contains standardized herbal extracts which moisturize and condition your hair giving it a shinier, softer and supple look. NOVUHAIR® Herbal Conditioner has been formulated specifically to complement the use of NOVUHAIR® Topical Scalp Lotion and NOVUHAIR® Herbal Shampoo.
These three Novuhair products provide a safe and effective combination for anyone who's experiencing hair loss, and is feeling hopeless with his or her situation. Perhaps magic sounds 'unreal', but the healing and therapeutic wonders of nature have been proven effective for centuries. Thankfully, that 'magic' is now conveniently packed in NOVUHAIR® 3-in-1 – ready for you to use whenever, and wherever you need it.