When you have two of the country's beauty experts on their heels over the same thing in the hair care market, you know they must be onto something. As of recent, the two highly influential personalities standing for a cause are beauty icon Fanny Serrano and wellness expert Cory Quirino, and that cause is hair fall.
"Every one has experienced hair fall at one time or another," says tri-media personality and Miss World franchise president, Cory Quirino. "They just vary in severity." Fanny himself, who has over forty years to his name as the make-up artist to the stars, has been open about his own hair fall experience. "I used to have very thick hair. So when people began noticing my scalp – this was in my 40s – I was alarmed," he said.
A journey of re-discovery
Like most people, the discovery of a frequent increase in hair fall led, for Fanny, to a search for the remedy. Yet if herbal shampoos shelved in drug stores abroad and hair care vitamins offered him anything, it was more stress – and more hair fall. "Name it, I've tried it. But none of them worked," he said. "It got to the point where I thought, forget it, I'm done trying it all."
For someone whose career has been partially built on hair dressing and styling, however, the idea of growing bald was unfathomable. "What am I going to talk about now, then?" mused Fanny. "All I'll have to talk about is make-up; no more hair. How am I going to talk about hair when I don't have any hair?"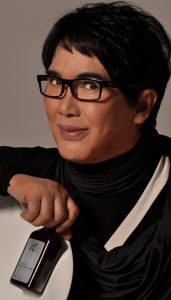 And so fateful was the day he found Novuhair Topical Scalp Lotion. "I tried it, but at first, deep down, I didn't take it seriously," he said. Then the changes began to come.
Two weeks since he half-heartedly incorporated Novuhair Topical Scalp Lotion into his daily regimen, Fanny began to discover less and less hair on his pillow when he woke in the morning. "I also realized the shower wasn't getting clogged up when I'd take a bath," he said.
Later, even his stylist noticed a changed in his scalp. "First he said it was getting darker," Fanny recalled of his stylist. "Then tiny black dots began to appear, that felt rough. I couldn't believe it myself, at first."
Sure enough, after four weeks, hair began to grow.
"So it was working!" said Fanny. "I said to myself, 'This is it! This is happiness!'"
An all-natural deal
Novuhair Topical Scalp Lotion is made with natural ingredients that include moringa oleifera, panax ginseng, biotin, and rosemary, lavender, peppermint, lemon grass, and virgin coconut oil, which improve blood circulation to the scalp and increase nutrition to hair follicles, as well as improve scalp scaling and prevent early graying of hair, among numerous other benefits. The scalp is thus detoxified and dandruff is eliminated, while hair growth is stimulated and excessive hair fall, remedied.
But why go all-natural at all? Effectiveness aside, are there advantages to resorting to remedies made with natural ingredients over those made with artificial chemicals?
Indeed this is so, according to Queen of Wellness Cory Quirino. "Products concocted with artificial chemicals cannot provide long-term benefits," she said."Some products may give immediate results, but it's never long-lasting." On the other hand, products concocted with natural ingredients such as Novuhair Topical Scalp Lotion gives one the benefit of feeling better, above looking better and living a relatively longer life.
Opting for wellness over illness, said Cory, is a lifestyle choice in itself.
"There are no shortcuts to good health and looking beautiful. There is only one way, and that is to embrace a wellness lifestyle," she said. "If you truly love yourself, you will go natural."
Nature's answer to hair loss
Fanny shares that in discovering Novuhair Topical Scalp Lotion, he has discovered the answer to one of his life-long searches. "Before, when people would ask for my advice on hair fall, I couldn't tell them anything," he said. "I didn't want to claim. So I'd just make suggestions, and told them to let me know whether it works," he said.
Today, though, he has something to share with people. "I've already informed my employees: if anyone comes (to the salon) with a hair fall problem, refer them to Novuhair," he said."Tell them, 'That's what Fanny uses.'"
"Now I don't just say, you know, just try it. I tell them myself. I say, try it," said Fanny. "And I find it easy convincing people. Why? Because I was convinced."